What wildlife gear do you take with you when you're heading off on a four month trip, and you have to travel light?
That was the conundrum I faced a few weeks ago when packing for our extended trip to Australia and Southeast Asia. After much deliberation I finally had my gear bag packed… here's a quick run down of what made the cut in the end.
(If you'd like to keep up to date with all of our #IWOnTour updates click here).
The Gear Bag
A decent bag to keep everything safe and secure on long-haul flights was the first thing I needed. Because my main item of luggage would be a backpack, I wanted a messenger-style holdall for my gear that I could carry comfortably over one shoulder.
The Heralder 38 from Vanguard seemed to fit the bill perfectly, with oodles of versatile padded storage and quick top-access to essential gear. Its good looks, rugged construction and cabin-baggage friendly dimensions tick all the right boxes, and the comfortable padded shoulder strap mean it's no problem to carry for extended periods even when full of heavy gear.
Binoculars
Lets get the main thing out of the way first. Optics were always going to be top of the "must-pack" list. The superb little Kite Lynx HD was first in the bag (a no-brainer — this is easily the best sub-mid-size binocular I've ever used), but with five of us travelling one pair wasn't going to be enough. I didn't want to pack my heavy and comparatively bulky primary binocular, so I was struggling to choose the second pair. When optics manufacturer Vanguard contacted me and asked if I'd like to try out their new flagship Endeavor EDII binocular on the trip I thought "why not". As a full-size 8×42 binocular these are perhaps a touch on the bulky side for travel, but the overall build and image quality is very impressive, and they fit in the Heralder 38 bag a treat… so in they went.
I'd resolved to take just two pairs to keep the weight down — one for me and one for the rest of the family to share. Just as we were leaving though I caved and threw in my pocket Opticron LE 10×25 WP Aspheric, just for emergencies :-).
Three pairs between five people… should be enough… most of the time.
Camera Gear
This was another difficult one. Naturally I want to get decent shots of wildlife while I'm away to share here on the site, and on social media sites (like these over on the Facebook page). I was looking at the latest super zoom bridge-style cameras, but couldn't decide, and in the end I packed my trusty old Nikon D90 DSLR body, my workhorse AF Nikkor 55-300 ED lens (400mm equivalent on the D90 body) and the 18-105mm kit lens.
That gives me a decent enough range for everything from family snaps to reasonable reach for more elusive wildlife subjects. It's also gear I'm familiar and comfortable with — which is perhaps just as important. There's also the smartphone camera I can turn to in a pinch for snapshots and record shots.
Torches
I've packed a couple of rechargeable LED torches for night-time expeditions and possible cave exploration later in the trip. The superb Fenix PD35 and the excellent LED Lenser P5R.2 with its unique USB charging system both made it into the bag. They are both compact, extremely powerful torches that perform superbly, although for everyday use I tend to find myself turning to the Fenix more often.
Technology
You can't really go anywhere these days without taking a bit of tech along. Here's what I've brought on this trip.
Computer
Being away for four months means I need to be able to work on the go. I nearly used that as an excuse to pick up a flashy new ultra-thin laptop, but in the end common sense prevailed and I opted to bolt a high-capacity 9-cell battery to the back of my old Acer Aspire One netbook and make do with that. With a fresh install of Linux Mint it runs perfectly well, and is ideal for email, word processing, web and blog-posts and for storing images from the camera. Along with my Google Drive account and a 500GB external hard drive I have access to all the files and backup storage I need.
Smartphone
A smartphone is an invaluable tool when travelling, and while my LG / Google Nexus 4 is getting a bit long in the tooth these days, it is still a very capable mobile device. I use it all the time for quick social media updates, Googling local wildlife hotspots, navigation, currency conversion and all sorts of other things.
I even have a few wildlife field guide apps installed rather than carrying heavy books around.
Another neat feature is the fact that because the phone is not locked to a network I can pop a local pre-paid sim into it and get the best local data rates, avoiding ridiculous roaming charges. Enabling the portable WiFi hotspot on the phone means the whole family get to share the data connection to keep up to date with friends and family back home on their own devices, and means I can hook up the netbook wherever I happen to be.
Brilliant!
Power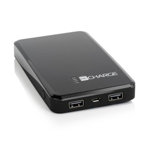 One of the things that's likely to be an issue, particularly as the trip progresses, is keeping power-hungry devices charged while away from mains power. I picked up a TechLink ReCharge 10,000 from Viking Direct to help provide mobile power while off the beaten track. You simply charge it via USB and it stores 10,000 mAh of power that you can use to recharge your USB powered devices. It's a little black box not much bigger than a smartphone, with a micro-USB charging port and two USB ports (1 x 1 Amp and 1 x 2.1 Amp) that allows you to charge two USB devices simultaneously.
It's perfect for phones, tablets and even the USB rechargeable LED Lenser P5R.2 torch.
Sundries
The rest of the bag is filled with various rechargeable batteries, chargers, cables, my "Swiss Champ" Swiss Army Knife (the ultimate pocket multi-tool), my kindle, and other bits and pieces that I probably won't need, but packed anyway, just in case (like a bat detector… well, you never know when one could come in handy).
Packing light is a tricky business… and to be honest I've probably packed a few things I really won't need, and will no doubt find that I've left a few things behind that I wish I'd brought. All things considered though I think I've got the balance about right.
How about you? What's your favourite bit of wildlife gear for travel? Let us know in the comments below.