The BBC and National Geographic have gizmos like "Turtle Cam", featuring cutting edge remote filming technology. Here at Ireland's Wildlife we have a camera strapped to a broom.
It works better than you might think. Check out the video below of a young minke whale visiting the Cork Whale Watch vessel The Holly Jo on a recent trip. As the whale approached and began circling the boat I grabbed the first long thing that came to hand — skipper Colin Barnes's deck broom — attached the action cam to it and lowered it over the side. I wasn't expecting much… but the results were much better than I could have anticipated.

Underwater video of  a young minke whale off the coast of Co. Cork, Ireland
When you consider that the pole I was using (a broom) was too short, I didn't have much of a clue what I was doing, and the water was a murky plankton soup, I think the results are remarkably good. I can't wait to get out on the boat again and give it another whirl!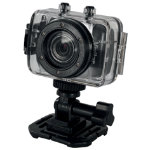 The camera in question is a Vivitar DVR785HD Pro which was sent in by Viking Direct — so thanks to them. While it's certainly not bleeding-edge wildlife film-making technology, this tiny camera can shoot 720p HD video, records to SD card and comes with a completely waterproof housing (handy), a clamp for mounting onto a bicycle handlebar (or a broom handle — also handy) and a helmet mount (slightly less handy — for me at least).
At €73.79 including VAT you're also not too worried if it takes a few knocks and scrapes along the way — and that's a good thing when you're lowering your gear over the side of a boat attached to a broom.
Stay tuned for more underwater video shenanigans when I manage to find myself a longer pole, and make time to get out on the boat again.