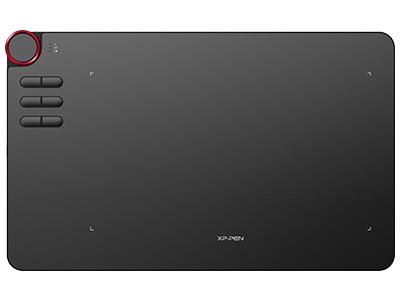 A graphics tablet may seem like an odd thing to be reviewing on a wildlife and nature site, but in today's increasingly connected online world the content we create plays an incredibly important role in helping us reach and engage with more people. Whether you're a wildlife photographer, artist or just a keen enthusiast who wants to share your love of wildlife with the world, creating and distributing visual content is a key part of that process. As a writer first and foremost much of the content I create here is text-based, but as the web and social media are highly visual that content invariably includes images, diagrams and, increasingly, video content.
Better than a mouse for visual content
When it comes to working with images — whether photographs, diagrams or digital artwork — a mouse is an incredibly blunt instrument. It lacks the precision and the finesse to get anything but the most rudimentary of editing or creative work done. If you're working on a lot of images or other visual content, extended use of a mouse can also lead to repetitive strain injuries. A good graphics tablet, on the other hand, gives you a pen/stylus to control your cursor much as you would with a pen on paper and it's pressure sensitive, so you can apply more emphasis to the tool you're using by simply pressing harder. While making the switch from a mouse to a tablet feels a bit strange at first, the action of drawing on a tablet is natural, intuitive and far more accurate than you'll ever experience using your mouse. You're also much less likely to pick up repetitive strain type injuries. That makes a tablet the ideal choice if you work with lots of visual digital content.
I'm currently using a tablet called the Deco 03 from up-and-coming tablet manufacturer XP-Pen to edit/create visual content for Ireland's Wildlife. Here's my review of the device after using it for a few weeks.
---
Pros: Thin, lightweight yet well-built tablet with large drawing area and specs that, on paper at least, match the market leaders, but at a fraction of the price. Superb pen holder and passive pen technology mean no need to charge the pen and no running out of juice mid-flow. Wireless option is a bonus and USB C connection is bang up-to-date. Programmable function keys and dial work a treat and can be customised in the driver for different software packages.
Cons: Performance can vary between software packages. I found pressure sensitivity and flow less smooth in some free software than in premium software like Adobe Photoshop — although I suspect that's a software issue rather than hardware. Default driver settings meant I had to press a little harder than I'd like to get the pen to register a fine line, but tweaking the pressure curve in the driver solved that.
Price: GB£99.99 (c. €115.00)
Value: Excellent
Rating: Recommended
There's a lot to like about XP-Pen. The company offers a range of affordable graphics tablets that mirror most of the features found on more premium tablet brands like the ubiquitous Wacom tablets used by professional illustrators and designers, but at price points that are perfect for people who's pockets perhaps aren't quite as deep, or who just want a low-cost tablet to try out the technology and see how well it works for them. The Deco 03 is one of the higher-spec graphic tablets in the XP-Pen range and offers a feature-set comparable to market-leaders with the exception of tilt-detection o the pen — something that's only really relevant for digital artists and illustrators, and is available in the newer XP-Pen Pro series.
If you're thinking of trying out a graphics tablet for photo or video editing, or to try your hand at illustration or wildlife art, XP-Pen could well offer the blend of value and features you're looking for.
Check out the XP-Pen Deco 03 on the XP-Pen website.
Buy the XP-Pen Deco 03 on Amazon UK | Amazon US
|
First impressions
The Deco 03 is a smart looking bit of hardware. It comes in a very sleek box, and the tablet itself, while slim and lightweight (only 8mm thick), looks and feels every bit a premium product. The snazzy red dial/scroll wheel in the top left corner lends it an air of sophistication, as well as being a particularly useful feature — but we'll get to that. Overall the tablet looks great and feels like a piece of hardware that could have cost significantly more.
It comes with a battery-free stylus with two clickable on-pen buttons and a pen case that also stores eight spare nibs plus a USB dongle for connecting your tablet to your computer wirelessly (very handy). As well as offering a safe and secure place to store your stylus while in transit, the lid of the hard, padded pen case does double duty as a very effective pen stand when you're at your desk — neat. The pen itself looks like, well, a pen.  It tapers from a bulbous end near the tip becoming narrower at the back. The area where you'd naturally hold a pen is covered in a tactile rubber that offers a decent grip, and makes the pen comfortable to hold. The buttons are located in this area, making them easily accessible while holding the pen. It's basically similar in size and weight to a standard pen or pencil — which makes using it intuitive and natural.
In the box, you'll also find a USB C cable, and the usual setup guide and warranty card, and a two-finger and thumb "anti-fouling" glove designed to reduce resistance to your hand on the tablet surface. I could never bring myself to wear the glove and honestly had no issues using the tablet without it.

Installing and Using the tablet
The first thing you'll want to do after unboxing your Deco 03 Graphics Tablet is to follow the advice on the box and on the clear plastic sleeve the tablet comes in: head on over to the XP-Pen site here and download the latest driver software. While the tablet will "work" of a fashion out of the box with Windows it will essentially perform like a glorified mouse. You'll need to install the XP-Pen tablet driver software to make full use of the pressure sensitivity, programmable function keys and dial. There are also Mac and Linux versions of the driver, which may be subtly different to the Windows version used for this review, but that will support a similar range of features and settings.
Downloading and installing the drivers was simple and straightforward, and once installed you simply need to plug in the tablet using the included USB C cable, or using the wireless dongle to connect wirelessly, and you're up and running.
Software support and programmable function keys
Most popular graphics programmes support tablets and pressure sensitivity to varying degrees depending on their intended purpose — I generally use Adobe Photoshop or the free, open source art programme Krita for art and illustration work, Adobe Lightroom and Adobe Photoshop for image post-processing and editing, Corel Draw for design/vector work and Techsmith Camtasia for screen capture and video editing. I've had no problem using the Deco 03 with any of them. One word of warning here though: while using a tablet is as intuitive and natural as picking up a pencil, making the transition from a mouse to a tablet to control your applications isn't. You need to train yourself out of the old habits of using a mouse and get used to using the tablet. That can take a bit of time, and lead to a little frustration at first, but once you get used to your tablet you'll find yourself hardly reaching for the mouse at all, and of course, you can accomplish things with a tablet that you simply wouldn't be able to achieve with a mouse.
The XP-Pen Deco 03 has a large 10×5.62″ active area, giving you plenty of space to work with. The PenTablet driver software lets you map this to a particular screen, window, or defined portion of a screen, so it's very flexible and can adapt to your setup and your needs. You can also adjust the pressure sensitivity in the driver by dragging points on the pressure curve to your liking and can programme the two pen buttons, six "quick access" keys and the red dial to perform your most common tasks. Crucially you can set the buttons and dial to perform different tasks in different applications, which works very well. That means you only have to set everything up once, rather than having to change the settings every time you switch to a new application.
The buttons and the dial are intelligently places at the top right of the tablet where you can easily access them with your left hand — turning the dial with your finger while you can reach any of the six buttons with your thumb. You can also rotate the tablet for left-handed use (don't forget to check the box in the driver) although that would put the buttons and dial in the bottom right — which is perhaps less convenient. I didn't try the tablet left-handed during this review.
Pressure Sensitivity and Responsiveness
With 8,192 levels of pressure sensitivity, the tech in the XP-Pen Deco 03 certainly isn't lacking and matches any other tablet on the market. I did have an issue with having to press too hard to register a line at the default setting with some brush choices in both Krita and Photoshop, but tweaking the pressure curve in the driver solved that. I found the Deco 03 very responsive, with little lag during normal use (so the cursor on-screen followed my pen strokes pretty much instantly), unless I was using a complex brush combines with a large brush size to cover a large expanse of canvas. Lag introduced in that situation is more to do with the graphics limitations of my computer hardware than it is to performance of the tablet and driver, so I can't really mark the Deco 03 down for that.
Conclusion
I have to say I've found the Deco 03 a joy to use for all sorts of visual content in a variety of applications — from selecting, masking and editing precise areas in digital images, to manipulating clips and effects in video timelines, to drawing and illustrating creative wildlife content. Using the tablet has improved my workflow and, in many cases, improved the end results. It has also allowed me to do things I could never have achieved using a mouse. I have never used an industry-leading Wacom tablet, so I can't comment on how the XP-Pen might compare directly, but I can tell you I've been more than happy with the XP-Pen Deco 03 for the work I do.
The XP-Pen Deco 03 would be an ideal first tablet for budding digital artists, art students or designers. It is also an incredibly useful tool for photo post-processing and video editing. Add to that the fact that it's robust, well made, looks fantastic and won't break the bank and I think you have a winning combination.
Specs
Active area: 10 by 5.62 inches
Resolution: 5080 lines per inch
Expresskeys: 6 and a dial
Report rate: 266 RPS
Pressure levels: 8192
Hover distance: 1cm
Connection port: USB C
Wireless: Yes
Pen: Passive, does not require battery
Buy the XP-Pen Deco 03 on Amazon UK | Amazon US
|
Acknowledgement
I'd like to thank XP-Pen for submitting the Deco 03 for review on Ireland's Wildlife.
NB. Ireland's Wildlife has no specific affiliation with any optics or gear manufacturer. All reviews on the site are completely independent and objective and carried out in accordance with our terms and conditions. If you're an optics or gear manufacturer or have a product you feel would be of interest to our audience that you would like us to review, please drop us a line using the contact form and we can take things from there.